Hi there [First Name],
Wouldn't it be awesome if there was a simple session modification guide that outlined how you could adjust the session content for your grade level?
Mmmhmm…we thought so too.
So we created one for you!  You can grab the Session Modification Guide and use it as you view the sessions through your unique perspective.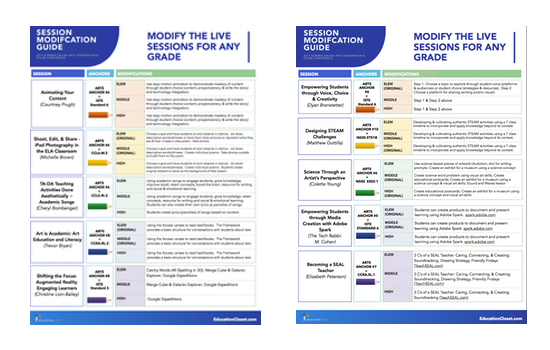 BRAIN BREAK
Brain Break 1 is here and that means it's time for a stretch and a giveaway.
You can download the brain break handout over in the On-Demand Access area. Just login, head into the conference portal and then click on the Brain Breaks tab at the top.
ON-DEMAND ACCESS:
Site: https://learn.educationcloset.com
Username: your email
Password: your password
FIRST GIVEAWAY: Chibitronics Class Sets
Congratulations to…
HEIDI WOLTEMATH and
VIRGINIA SCHOLL
You've both won a class set of paper circuits from Chibitronics!
Stay tuned at our other break periods for more fun items like these.
We're getting right back into the sessions, so be sure to hop in and join us.
And don't forget to share what you're learning on social media with #connectivity19– we want to see what you're up to!
Best,
Susan and the EdCloset Team
EMAIL ARCHIVE LIST
This list will automatically update as emails are sent.