Did you miss registering for our online Arts Integration and STEAM conference event?  If so, we now have a wonderful new opportunity to view everything that you missed!
The On-Demand Access Ticket is now available for both our 2015 winter and summer conferences. With the purchase of this On-Demand Access Ticket, you'll receive instant access to the on-demand archive site from the 2015 Summer Conference or the Winter Conference (whichever you choose).  You can explore each session offered, download all the handouts, and if you comment on each session, you can even receive a PD certificate worth 8 hours.  Both instant-access tickets are just $99.
2015 Summer Online Conference Sessions Include:
TRACK #1: 10AM-11AM EST
How to Write and Illustrate Your Own Stories – Rachel Wintemberg
Dancing through STEAM – Elizabeth Peterson
Artsonia: More than Just a Gallery – Donna Staten
TRACK #2: 11AM-12:35PM EST
Patterns in Music, Dance and Math – Marcia Daft
Exploring the Creative Process with Dance – Deirdre Moore
Experimenting with Color – Beth Elliston
TRACK #3: 12:45PM-1:55PM EST
Building an Arts Magnet School – Bobby Riley and Judy Kilma
Put on Your Math Goggles: Seeing Art in Math – Robin Ward
Design Brain-Friendly Learning Spaces – Erin Klein
TRACK #4: 2PM-4PM EST
STEAM-Shop: African Thumb Piano – Tim Gregory
Pinterest IN the Art Room – Donna Staten
What's the Mood…Setting…Theme? – Jennifer Kauffman
Early Childhood Story Drama – Victoria Brown
Project-Based Learning as a Means for Arts Integration – Brianne DeFrang
Arts Integration with a Kiss – Susan Riley
PLUS…TWO Bonus Sessions and THREE Brain Breaks!
GET INSTANT ACCESS TO THE SUMMER CONFERENCE HERE
---
2015 WINTER Sessions INCLUDE: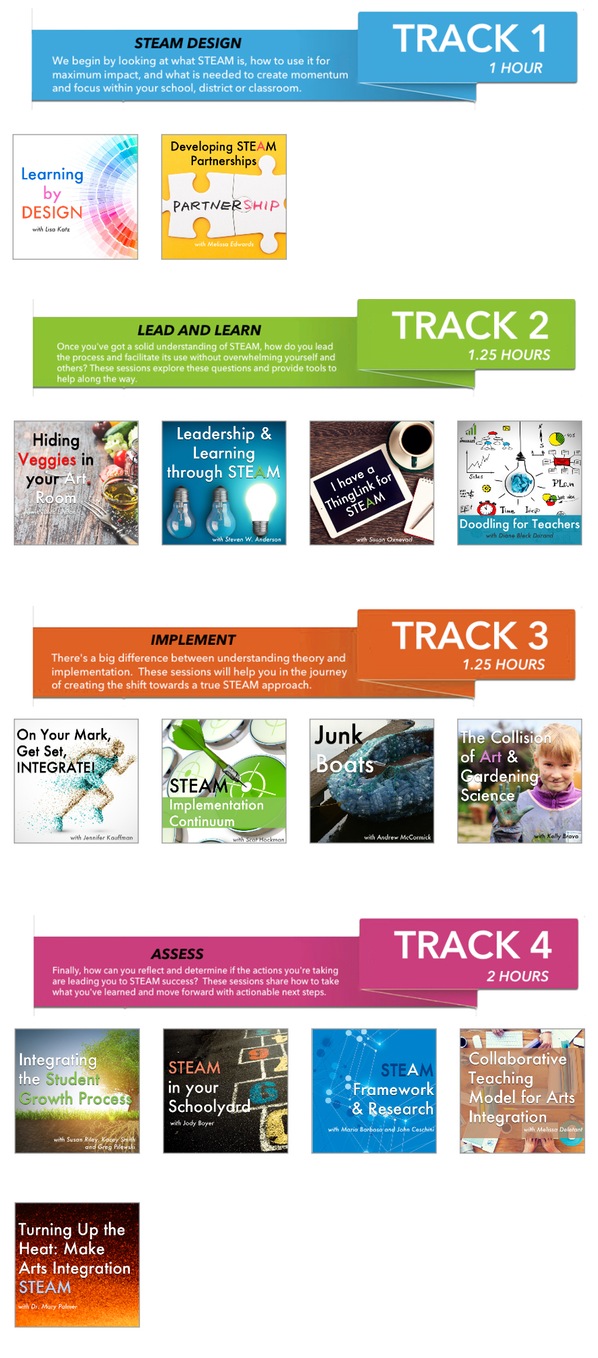 GET INSTANT ACCESS TO THE WINTER CONFERENCE HERE